I am in my fourth week of OMF's European Tour of Hope and had the joy today of being able to meet with our Norwegian ME / CFS friends again. They welcomed me warmly in beautiful Oslo, a city surrounded by the most spectacular scenery, including fjords, lakes, mountains and forests. The Norwegian ME Association organized a conference in a large auditorium at the Oslo University Hospital, Rikshospitalet. There were over 200 people in attendance. I spoke following Dr. Katarina Lien, MD, PhD (Oslo University).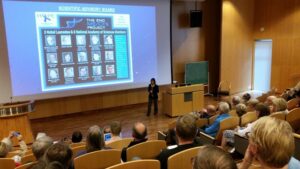 Dr. Lien (pictured) spoke in Florida at the 12th IACFSME conference (2016) on her findings that blood lactate increases more rapidly after an exercise challenge in patients with ME / CFS. Last night her talk focused on exercise intolerance and possible metabolic disturbances in ME / CFS, and she theorized as to whether ME patients have a basic disturbance in their energy metabolism.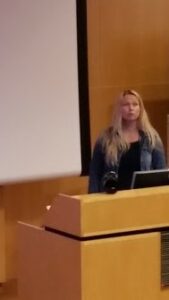 I am very grateful to all those who attended my talk, and especially for this touching feedback we received: "I was present at your talk tonight, and oh my it was so uplifting! To hear about your projects gives me great hope for the future. My most heartfelt thank you's to you and the entire OMF team."
Norway is also home to our newest Scientific Advisory Board members, Dr. Øystein Fluge and Dr. Olav Mella (pictured below) (University of Bergen, Haukeland University Hospital). We are very honored and grateful that they accepted our invitation. Dr. Ronald W. Davis, Director of our Scientific Advisory Board and Director of the Stanford Genome Technology Center, recently said, "We are honored that these scientists are joining our team to end ME / CFS. I have tremendous respect for their work. I work very closely with our Scientific Advisory Board and look forward to creating a new partnership with them. These scientists have each made significant contributions to ME / CFS and related fields, and are committed to helping accelerate our research."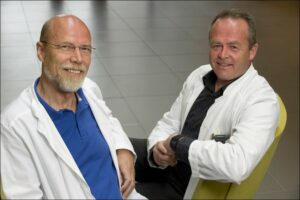 Drs. Mella and Fluge will join our Collaborative Team Meeting and Community Symposium on the Molecular basis of ME / CFS along with over 30 experts in August (10, 11) for research meetings followed by the community symposium (August 12) where you as a patient can meet our scientists in person and hear first-hand the progress being made and future plans! To register and find more information, please visit: /community-symposium/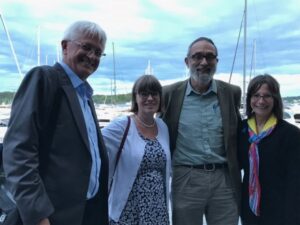 We hope to share more news and impressions from Oslo, including a video recording made by the Norwegian ME Association. I am now preparing for my talks in Sweden. I sincerely thank Rune Hoddevik, Trude Schei, Bjorn Wold (pictured) and so many others for their incredible organization and warm welcome in Oslo. I truly enjoyed visiting your beautiful country and its warm inhabitants.
Welcome to Team OMF!
With hope for all,