Very rare for a scientific presentation!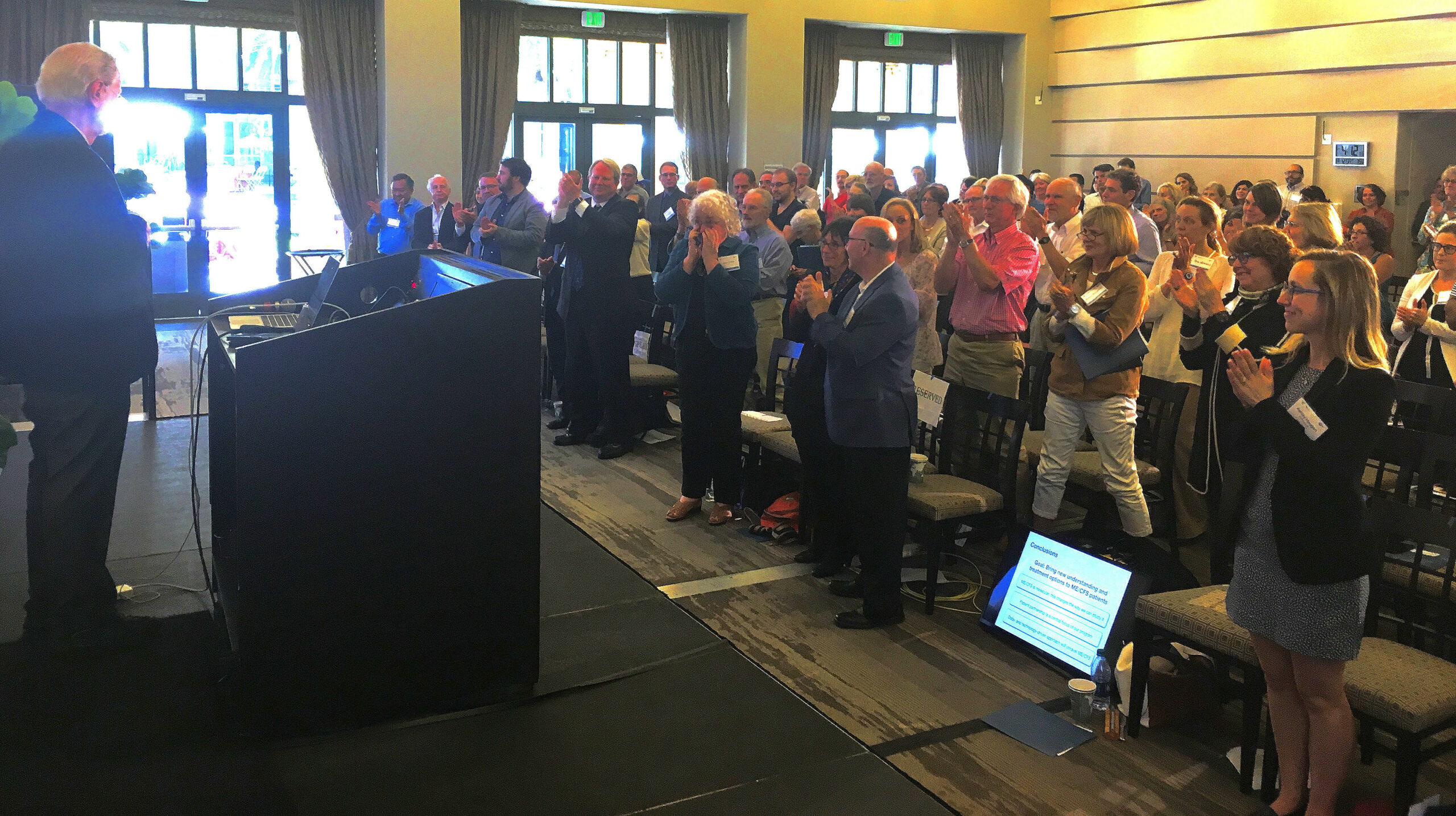 August 12 was an amazing day at OMF's Community Symposium on the Molecular Basis of ME / CFS at Stanford University. The room was buzzing with positive energy. The researchers' presentations were incredible and showed great insights into this disease. There were renowned scientists from all over the world, and from related fields revealing interesting new insights into ME / CFS research. Patients, caregivers, clinicians, and other researchers attending interacted with these scientists during breaks, lunch and an evening reception, and there was so much excitement and optimism in the room.
Here are some of the highlights from this amazing meeting (stay tuned for more!):
Additional comprehensive evidence that ME / CFS is a molecular disease was presented.(Yet another nail in the PACE coffin!)
Experts in metabolism, immunology, genomics, neurophysiology, electrical engineering and bioinformatics presented data.
We learned about innovative ways to find new pain drugs and saw elegant evidence of a clear connection between the immune system and the brain.
The scientists decided to continue as a "Working Group", and are already planning multiple new ways to work together to facilitate and accelerate progress.
Nobel laureate Mario Capecchi noted how important patient participation is in studying any disease, and how impressed he was with the amount of ME / CFS patient participation!
In Ron Davis' concluding remarks he stated that it is clear that what is missing is funding. He described ME / CFS as "a horribly underfunded disease". Progress has been impressive despite the limited resources, but it is clear that more funding is needed to unravel this mystery and find treatments and a cure fast.
We need your help to accelerate the pace!
Every Donation of Every Size Brings Us Closer to A Cure.
To End ME / CFS, the world is counting on brilliant researchers working collaboratively.
If you have ever thought to donate to our End ME / CFS project, NOW IS THE TIME! We need to keep the momentum going and leverage the expanding interest in finding a cure.
Thank you for giving what you can today.
Sincerely,

Linda Tannenbaum
CEO/President
PS – Please share this message with family and friends. Encourage them to join you in your support of OMF's research for treatments and a cure.