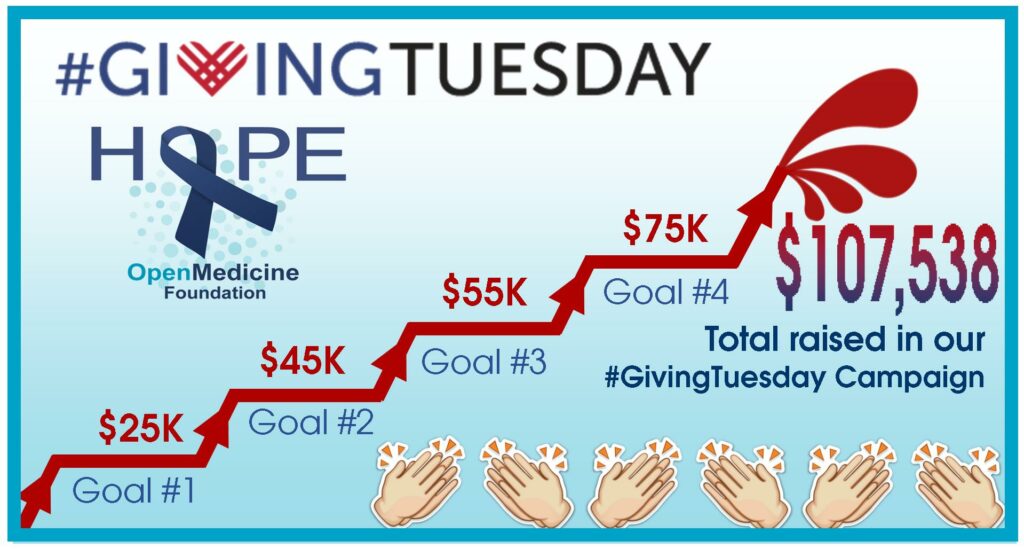 Thanks to some smart folks, #GivingTuesday has been practiced for four years. Nonprofits use this special day to remind people that this time of year is about more than consumerism; it's about giving. And what better way than giving to OMF research, so we can End ME / CFS and the suffering it causes?!
This year, we had a special challenge. An anonymous donor offered to triple-match donations made within a few weeks before and on #Giving Tuesday, but with a maximum of $25,000. Done–that goal was met early. But, there was more to come.
Another anonymous donor joined in the effort by also offering to triple-match  donations up to a maximum of $20,000; then another offered to triple-match up to $10,000. That would be a total of $55,000. No problem, you said. We met that goal over a week before #GivingTuesday.
To keep the momentum going and expand our funds for more research, we set the new goal of $75,000. Did we make it?
Of course. With your confidence and generosity, we received a total of $107,538 in the #GivingTuesday campaign.
Thank you, thank you, thank you! Look for announcements soon on what research projects we will do with these funds. As a reminder, our research strategy is under the leadership of our ME / CFS Scientific Advisory Board, which has world-renown researchers with distinguished accolades in their fields.