It is with great sadness that we inform you of the sudden passing of OMF's beloved Chief Medical Officer, Ronald G. Tompkins, MD, ScD. As we join together to mourn this devastating loss, we would like to reflect on his tremendous legacy.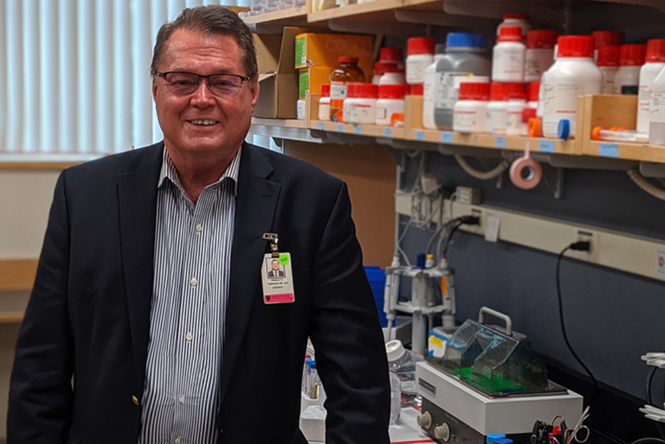 Ronald Tompkins was a leader in the ME/CFS research community, and a dear friend to all. Committing his life to research and science, Ronald Tompkins' brilliant work has been fundamental in helping the lives of countless others.
Earning a Doctorate in chemical engineering at Massachusetts Institute of Technology (MIT) and completing his Harvard surgery residency in 1987, he served as Chief of Trauma and Burn Services at the Massachusetts General Hospital, Chief of Staff at Boston's Shriners Hospital for 22 years and was the Sumner M. Redstone Professor of Surgery at Harvard Medical School.
Dr. Tompkins continued to use his expertise to change the world for those suffering from chronic diseases and injury. He went on to found a center for research and innovation and served on the Boards of multiple Non Profit organizations, Academic Boards, and National Committees dedicated to the advancement of engineering and medicine. He published more than 500 research contributions in medical and engineering journals, pioneering advancements for those with chronic, complex diseases.
Dr. Tompkins also contributed his wealth of expertise as the principal investigator of the $100 million "Inflammation and the Host Response to Injury" Glue Grant program funded by the NIH. In this role, he developed the clinical infrastructure to study critically ill trauma populations, as well as the technological and bioinformatics skills to isolate leukocyte populations and probe the transcriptome as it responds to severe injury.
The development of clinical treatment protocols by consensus of the trauma and burn centers participating in the "Glue Grant" program led to improvements in the survival rates of injured patients, and established benchmarks for care in the fields of burns and trauma.
In 2014, Dr. Tompkins joined Open Medicine Foundation's Scientific Advisory Board, and in 2018, he launched The Harvard ME/CFS Collaboration with Dr. Wenzhong Xiao. Not only did he bring expertise in the clinical evaluation of critical care patients, but also in inflammation biology, genomics, proteomics, and computational biology.
Beyond their depth of experience in metabolism and inflammation, Drs. Tompkins and Xiao together demonstrated the ability to lead multi-center, large-scale collaborative projects, compile complex datasets, and improve disease outcomes based on their data interpretation. These skills have been essential for building a collaboration with the extremely talented pool of researchers and clinicians that Harvard and its affiliated hospitals have to offer.
In early 2020, we were honored to welcome Dr. Tompkins as Open Medicine Foundation's Chief Medical Officer, where he demonstrated steadfast dedication to finding answers for millions suffering from Myalgic Encephalomyelitis / Chronic Fatigue Syndrome (ME/CFS) and related diseases.
Behind his incredible advancements and contributions to the world of medicine and science, Dr. Tompkins was driven by fierce compassion for others, touching the lives of all he met. Today, we join together as a community and mourn this loss, for he has left us too soon. He will be so greatly missed. Dr. Tompkins was an inspiration to all, and his legacy will never be forgotten.