Thank you Eilidh for your efforts to support OMF's research and raise awareness in Glasgow. Learn more below.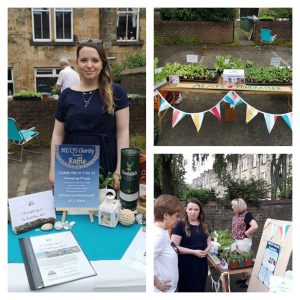 "My name is Eilidh, I'm from Glasgow, Scotland, and I have had ME / CFS for 9 years.
I held a fundraiser at an event called 'Bungo in the Back Lanes' in Strathbungo, Glasgow along with my family and my friend Helen.  It's a great event where residents and businesses in the area put out stalls, set up beer gardens, and perform live music all in their back yards and in the lanes behind their houses.
My fundraiser included a plant stall where I sold plants I had grown from seed and a raffle.  I had contacted businesses to see if they would donate prizes and was lucky enough to receive an overnight stay at a hotel, a £20 restaurant voucher, and a voucher for a manicure from a nail bar, as well as champagne, whiskey, gin, wine and chocolates given by family and friends.  I also displayed a poster about ME / CFS, the need for more funding into research and the work of the OMF.
The First Minister of Scotland Nicola Sturgeon attends the event every year as it takes place within her constituency.  I was very fortunate that she kindly agreed to speak with me about ME / CFS as she passed. I was also able to bring her attention to a recent petition for increased funding into research put forward to the Scottish Government by ME Action Scotland.
After being diagnosed with ME / CFS, no doctor could tell me why I was ill, offer any treatment or refer me to a specialist.  It was also very disheartening to discover that there was little in the way of government funding for research into the disease.  Attempting to find reliable information online myself was challenging and at times overwhelming.
I decided to donate the money I raised to the OMF because they have created an incredible community of scientists who, in sharing data and working together, have greatly accelerated research into ME / CFS. Their determination to understand the pathology of ME / CFS, create a test and develop treatments is palpable and incredibly heart-warming and inspiring.
I greatly appreciate that the OMF makes research updates publicly available.  Their message of hope and stories of patient strength are a great source of comfort.
I am very happy that we were able to raise $400 towards the OMF's amazing work."