When Linda Tannenbaum's 16-year-old daughter came down with sudden onset ME/CFS in 2006, she was shocked to discover that there were no diagnostic tests or treatments for the devastating disease — one that prevented her daughter from leaving her bed and living her full life. 
After researching options, Linda realized that open, collaborative research into the disease was terribly lacking, as was research funding. So in 2012, she established Open Medicine Foundation to fundraise for and facilitate large-scale research of ME/CFS and related chronic complex diseases to find diagnostic tools, treatments, and, ultimately, a cure. 
Nine years later, we're so proud of the progress that's been made: We have funded over 20groundbreaking studies
through the OMF ME/CFS Research Collaborative, a global network of five prestigious academic research institutions led by some of the world's foremost researchers. The projects and trials continue to make great strides towards finding answers for millions suffering from ME/CFS, Post-treatment Lyme Disease, and Fibromyalgia — and now potentially millions more with Long COVID.
Unfortunately, research into chronic complex diseases continues to be woefully underfunded by public institutions. OMF was established to help fill that void, urgently raising money and awareness to provide a better way to diagnose and effectively treat so many who have been left behind. As Jacqueline Ko, an OMF Ambassador living with ME/CFS, powerfully states:
"I don't even remember what it's like to be healthy — many of us have been living in lockdown for decades. For the ME/CFS community, finding answers isn't just urgent, it's long overdue."
This is what motivates our momentum. But we can only keep this critical research going with your support.
Please consider becoming a sustaining monthly donor today and help us find answers to return millions to health!
A great research strategy is not enough. To succeed, we need funding to accelerate this research. With optimism and perseverance, we are determined to reach our aggressive funding goals to continue driving research, so we can bring the millions suffering back to good health.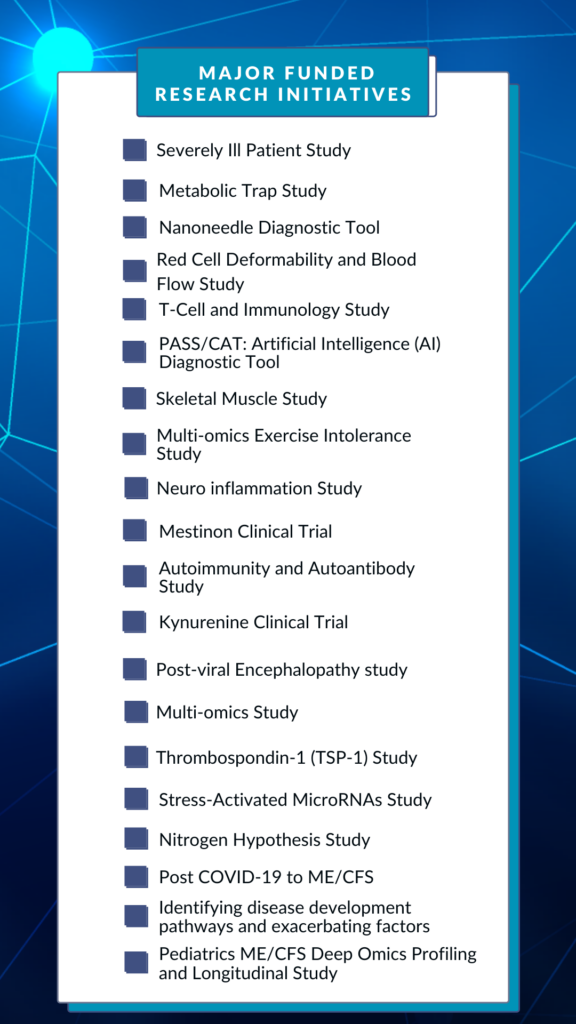 We need your help to keep the momentum going!
Join us in our mission to find the answers, and change the course of history.
Become a sustaining donor today!