Som en del av OMFs andre årlige May Momentum-kampanje kommer OMF til Times Square i hjertet av New York City, for å øke bevisstheten, 12. mai den internasjonale ME / CFS -dagen.
å en stor skjerm vil OMF dele en melding om ME / CFS. På en melding om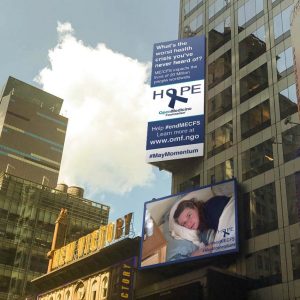 ME / CFS. På en tilstøtende skjerm (se bildet til høyre)  vil vi ha en lysbildefremvisning av bilder av pasienter med OMF-logoen. Vi inviterer deg til å dele ditt eget bilde. Vi ber om minst $ 33 * USD-donasjon for hver gang bildene dine vil bli vist. Dette beløpet representerer gjennomsnittlig alder for utbrudd for ME / CFS på 33 år. Bildet ditt kan deles 12. mai så mange ganger du vil – en gang for $ 33, to ganger for $ 66, etc.
Doner og legg til ditt bilde for å bli vist på Times Square den 12. mai – internasjonale ME-dagen.
Ditt bilde vil hjelpe oss å opplyse folk om ME / CFS og sikre at pasientene ikke lenger er usynelige for omverden. Hvis du foretrekker å ikke dele et personlig bilde, vær så snill å vurder å donere for å støtte OMF og fremtidige OMF-genererte innlegg.
Alle innsendinger må være mottatt innen 6. Mai 2019.

Klikk her for å donere og motta instruksjoner for hvordan du sender inn ditt bilde.
Tusen takk for at du er en del av vår Times Square-aksjon. Håper vi "ser deg" på Times Square.
*$15 av din donasjon dekker gebyeret for å poste bildet ditt i Times Square. of your donation covers Navn vil ikke bli inkludert. Alle bilder blir underlagt vurdering.mes will not be posted.

OMF takker Anne-Marthe Markussen for denne oversettelsen.