Jonas Bergquist, Professor of Neurochemistry at the Department of Chemistry (BMC) has started a collaboration with the neurointensive care unit at Uppsala University Hospital in order to study samples taken from COVID-19 patients.
Why have you started this collaboration?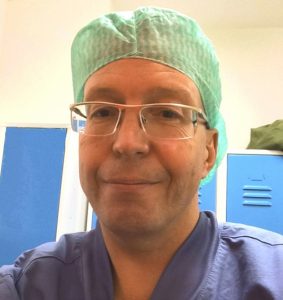 "My research group has long had a particular interest in studying patients with potential neuroinflammatory diseases, especially myalgic encephalomyelitis (ME). In this patient group, the recovery system is depleted of energy at the same time as the nervous system and immune system are compromised. What we want to study is whether patients who have suffered a severe COVID-19 infection exhibit similar post-viral fatigue and to what extent this occurs. We are aware of just such a correlation from other major pandemics, including Spanish flu, Asian flu and SARS."
How do you go about working with COVID-19?
"Specifically, what I and my research group are doing at the moment is to work very closely with the neurointensive care unit at Uppsala University Hospital among others, to monitor those patients who require the most advanced intensive care. With our analyses, we attempt to follow the course [of the infection] in them to see what we can learn from it.
"We continuously collect samples throughout the process, from when the patient is admitted until, hopefully, they are discharged and return home. The idea is that we will also monitor them over a lengthy period after they return home, possibly for many years if we have everything in place. As my area of special interest is cerebrospinal fluid, where possible we take such samples from the patients. We also look at standard blood and urine samples, as well as some biopsy materials in cases where surgical procedures are also required."
What kind of answers are you hoping for?
"We are already looking for neuroinflammatory markers and nerve cell markers in ME patients, so we are attempting to see if these are also found in COVID-19 patients' spinal fluid. This might show a correlation and provide data on which patients are at risk of suffering long-term and even chronic problems. If this is the case, what are these biomarkers and which other organs are affected at the same time? Can we see patterns in which different infections that affect the nervous system behave in a similar manner? What we need to do now is follow up and study the situation of those patients who have ended up under intensive care and who have neurological symptoms. How will they fare once they get home and recover from their infection-related illness? Will they show continuing adverse effects or will they fully recover?"
You meet a great many ME / CFS; patients within the framework of the research centre you lead at Uppsala University: how have they been affected during the current pandemic?
"Many of them already live in isolation so, unfortunately, for them social distancing has not involved any great change; however, those who require home nursing or other assistance have of course been affected like all other patients. In addition, they often belong to risk groups and many have problems with, for example, blood pressure regulation and the autonomic nervous system. As luck would have it, it appears that very few ME patients have contracted a confirmed COVID-19 infection, at least based on the reports we have received."