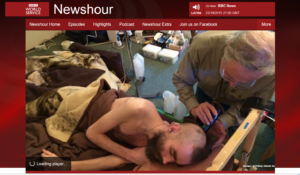 More and more people are learning how severe ME / CFS can be and about the OMF research initiative that includes these very ill patients. Ronald W. Davis, PhD, is the ME / CFS Scientific Advisory Board director and father of Whitney Dafoe, who came down with ME / CFS as a young adult. Their situation was featured on BBC on October 19.
The Newshour is put out twice a day and lasts for an hour in each airing. This segment on ME / CFS lasts for about six minutes. We cannot be sure of the reach because BBC is aired all over the world, but with different content in different countries.
We appreciate so much that Whitney Dafoe is willing to give up hos privacy to further the research efforts of our foundation, including the ME / CFS Severely Ill-BIG DATA Study as determined by his father and the rest of the ME / CFS Scientific Advisory Board.