I'm pleased to share with the OMF community that the OMF sponsored Stanford ME / CFS Working Group and Third Annual Community Symposium on the Molecular Basis of ME / CFS once again is helping to advance urgently needed research on this disease.
During the three days prior to the Community Symposium, 60 scientists from all over the world, including OMF Scientific Advisory Board members, actively participated in the Working Group. They gathered behind closed doors to brainstorm and openly discuss new ideas to move this field forward.
It was wonderful to see that this year there were new faces and early-career participants, including talented engineers, contributing to the discussions. From my conversations during the meetings, it struck me again how much kindness, passion and collaborative spirit all the participating scientists have.
At the lovely pre-symposium dinner on Friday evening at Dr. Ron Davis's home, I had the pleasure to thank Dr. Davis as well as Dr. Ron Tompkins, Dr. Wenzhong Xiao, and Dr. Jonas Bergquist for the initiative they've taken in leading the OMF-funded Collaborative Research Centers, as well as the many scientists, donors, leaders and OMF staff for all their hard work.
On Saturday, the Community Symposium provided our outstanding panel of speakers an opportunity to share updates with the international ME / CFS community as well as those attending in person. Nearly 300 people were present, mostly from the U.S. but also from Sweden, Norway, Canada, Korea, Japan and Italy, and the Livestream broadcast and Facebook Live reached thousands more around the world.
In between presentations, patients, scientists and clinicians exchanged insights and ideas. It's always inspiring to see how the scientists and clinicians in this field are personally invested in finding answers for patients fast, and how much they're interested in learning from patients and using these events to interact with the community as much as possible.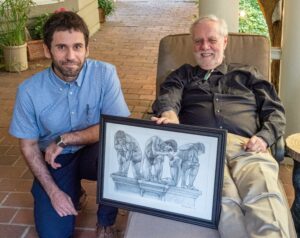 Paolo Maccallini, a patient-expert who traveled from Italy to attend, described the experience perfectly: "Meeting all these top-notch scientists, gathered to share their perspectives on the latest advancements in the knowledge of ME / CFS, was thrilling. You deeply perceived the collaborative spirit and the professional trust they have for each other. This, along with the information they shared, made me confident for a hopeful future for patients."
The Symposium ended on a very encouraging note, when all six speakers who were on stage for the closing panel discussion agreed, "We are very hopeful for the near future!"
In the years I've been working to end ME / CFS, I've never felt more hopeful and inspired. Our talented research collaborators have the expertise to figure this out, and the generous support of the community continues to grow so we can accelerate the pace of discovery.
With that in mind I want to emphasize to patients, keep hope alive; there's light at the end of the tunnel, now more than ever!
Thank you all for being a part of this unique community effort, and I look forward to keeping you updated on the exciting ME / CFS research that you help make possible. We will share an overview of the Symposium from Dr. Chris Armstrong soon.
With hope for all,
Linda Tannenbaum
Founder & CEO/President