#TripleGivingTuesday Research Update
$1 Million Received to Study COVID-19 to ME/CFS
Open Medicine Foundation (OMF) is thrilled to announce an anonymous, $1,000,000 grant to fund a collaborative investigation of the relationship between COVID-19 and the possible trajectory to Myalgic Encephalomyelitis /Chronic Fatigue Syndrome (ME/CFS.) The study will be conducted at the internationally-based OMF funded Collaborative Research Centers.
In early 2020, OMF scientific leadership anticipated that many COVID-19 patients were at high risk for developing ME/CFS, offering an unprecedented opportunity to understand how ME/CFS develops from a genomic, proteomic, metabolic and immunologic perspective.
With this initial $1 Million investment, we seek to study the difference between COVID-19 positive patients that return to good health and those that end up with ME/CFS, which could, in turn, reveal biomarkers and treatment interventions. 
We will share details about the study in the coming weeks.
Help support extraordinary collaborations conducted across OMF funded Collaborative Research Centers, and join us in our mission to find answers so millions can return to their healthy and productive lives. And your gift, received from now until December 1, will be TRIPLED!
Learn more about why we are so passionate about this project. Please take a moment to hear from some of OMF's family of supporters and researchers, and consider giving today: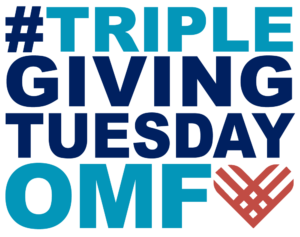 It's with your support that we're leading critical research and delivering hope for millions.